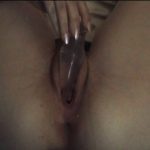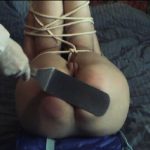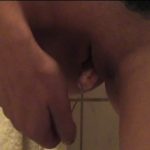 The pretty and young Leila spoils her shaved vagina with many toys. This, however, her friend does not like. When he gets Leila back in the masturbation, Leila gets to know a hard spanking. Leila is hit hard with the cooking spoon and other percussion instruments. In various positions, Leila's vagina suffers from spanking. Quickly, Leilas Po is red and strewn with streaks. Leila's anus and the labia flinch under the blows of spanking. The paddle of metal adds to Leilas Popo the greatest pain. Especially after the spoon and the spikes have finished their spanking. Leila can relax in the bathtub and has to fart several times. After the bath, Leila introduces a tampon, with an introducer, into the vagina. You will see how Leila shows her anus and her vagina naked on the bed in various positions. In the end, we will see how Leila once again enjoys a very hard cane spanking.
Video:
Title: Love Spank Fart and Tampon
File: 31,49 min.
Please keep in mind, that the original videos have a better quality!
Tags: anal / anus / rectal, enemas, fart / defecation / shit, Shaving / Masturbation / Vaginal / Tampon, Slave / Spanking / BDSM / fisting / Stretching
Preview – Clips