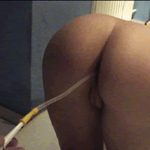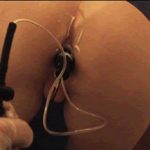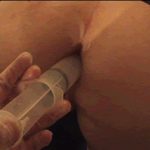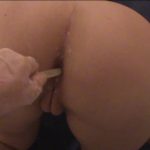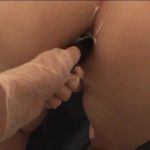 The young girlfriend gets several clinic mini-enemas. The special colon cleansing is continued with several bowel rinses. The bowel rinses are performed with different inlet nozzles and a long bowel tube. The anus of the girlfriend is stretched again and again with lubricants and the fingers. The girlfriend loves to show herself and her anal and everything about that. You'll see a lot of private stuff about her that nobody is seeing of someone else. The young pretty girlfriend loves ice water enemas with a woman shower! These enemas release all the remains in the anal canal, before the anus is stretched again with warm lubricants and fingers. To keep the intestine in motion, the girlfriend receives a glycerin suppository before the anus is stretched with a steel ball dildo. Then the girlfriend goes with an accompaniment on the toilet to make pee. Afterwards, she is pushed through the anus deep into the anal canal in the knee-elbow position. The chocolate is distributed in the rectum through further enemas and bowel rinses. Then the young girlfriend gets to know the rectal thermometer and it is decided to introduce a long and thick intestinal tube anal. A further glycerin suppository and a long chocolate piece are introduced deep into the anal canal in the knee-elbow position. This strengthens the rectal and anal sensations after the introduction of the special dildo into the anus. This anal toy is pumped in the anus and stretches the anal canal. In addition, it will provide vibration in the anus. Finally, there is also a rectal air enema and an anal massage. And a lot more for you…
Video:
Title: Enema, excrement & Anal Play
File: 48,41 min.
Please keep in mind, that the original videos have a better quality!
Tags: anal / anus / rectal, enemas, fart / defecation / shit, Shaving / Masturbation / Vaginal / Tampon, Slave / Spanking / BDSM / fisting / Stretching, Temperature measurement / suppositories / Clinic / doctor Plays
Preview – Clips