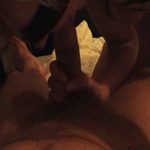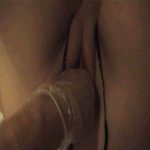 As the title reveals: "Anus brutal" – The master leads his young girlfriend to her anal pain limit. In the knee-elbow position the anus and the vagina await the tasks of the master. First, the master captures his young girlfriend and binds her breasts. Likewise, the labia are processed with tape and her ass makes acquaintance with the tape aswell. The vagina of the young girlfriend is extremely stretched with the master's hand. Then the master introduces little love balls into the anal canal of the young girlfriend, then to replace these by a vibrator. Now your anus is ready for a cool metal ball dildo from the ice compartment. This dildo is driven by the master hard through the anus into the anal canal of the young girl. While the intestine is cramping through the dildo in the anus, the master works the vagina of the young girl. The penis of the master is to be orally brought into shape by the young girlfriend. Shortly thereafter he takes an inflatable dildo deep into the anus of the young woman delivered to him. This dildo pumps the master almost to the burst in the anal canal of the young girlfriend. She winds under the rectal pressure that goes to the pain threshold. Without letting the air out of the dildo, the master pulls the dildo out of the little sweet anus of the woman. Everyone can see how she twists and how far her anal canal has been stretched. For the young girlfriend, it feels like a baby's head is pulled out of your anus. Then the master tries to push his whole hand into the anus of the young girlfriend. The master does not like the lamentation of the Anal love and he punishes her with a hard spanking! We then experience how the master fucks the young girlfriend very hard vaginal and anal – just anal brutally. And much more.
Video:
Title: Anus brutal 2
File: 54,00 min.
Please keep in mind, that the original videos have a better quality!
Tags: anal / anus / rectal, Shaving / Masturbation / Vaginal / Tampon, Slave / Spanking / BDSM / fisting / Stretching
Preview – clips